Motorola Programmer
Motorola Programmer is small but powerfull microcontroller programmer. It allows you to read, write and edit EEPROM memory. It also read ROM memory. It is easy to use and it includes integrated hex editor.
Hardware is inside
Features:
Read, Write, Verify EEPROM
Read ROM
Support: BIN, EEP, DAT, HEX, S19, E2P, EEF files
Unlimited undo
Find, GoTo, Fill Selection function
Direct HEX, DEC, BIN ,S19 ... data edit
ASCII view ,HEX view ,Binary view ,Decimal view
SwapBytes 16/32 function
Color schemes
Display values as colors
Friendly user interface
Only ~100 KBytest
More informations :
Supported MCU's:

Gallery
First hardware 2004:

Latest hardware 2014 :

Example :

Adapter for external programming for HC11E9

Next adapter's available:
External programming (with desoldering MCU)
HC05/705-PLCC52
HC05/705B6/16/32-QFP64
HC05/705X16/32-QFP64
HC05/705E6-QFP44
HC05H12-PLCC52
HC05L28-SDIP56
HC05/705E6-SOIC28
HC08/908-QFP64
HC08/908-PLCC52
HC11PA8-QFP64
HC11KG4-QFP80
HC11KA4-PLCC68
HC11E9/A20-QFP64
HC11E9/A8/A20-PLCC52
HC11F1-QFP80
HC11F1-PLCC68
HC11P2-PLCC84
TMS375-PLCC44
other's adapters for external programming
ISP programming (in circuit without desoldering MCU)
HC05/705-PLCC52
HC11E9/A8/A20-PLCC52
HC11F1-PLCC68
HC11P2-PLCC84
HC08/908-PLCC52
HC11KA4-PLCC68
TMS375-PLCC44
other's adapters for ISP (IN-CIRCUIT) programming
full pack :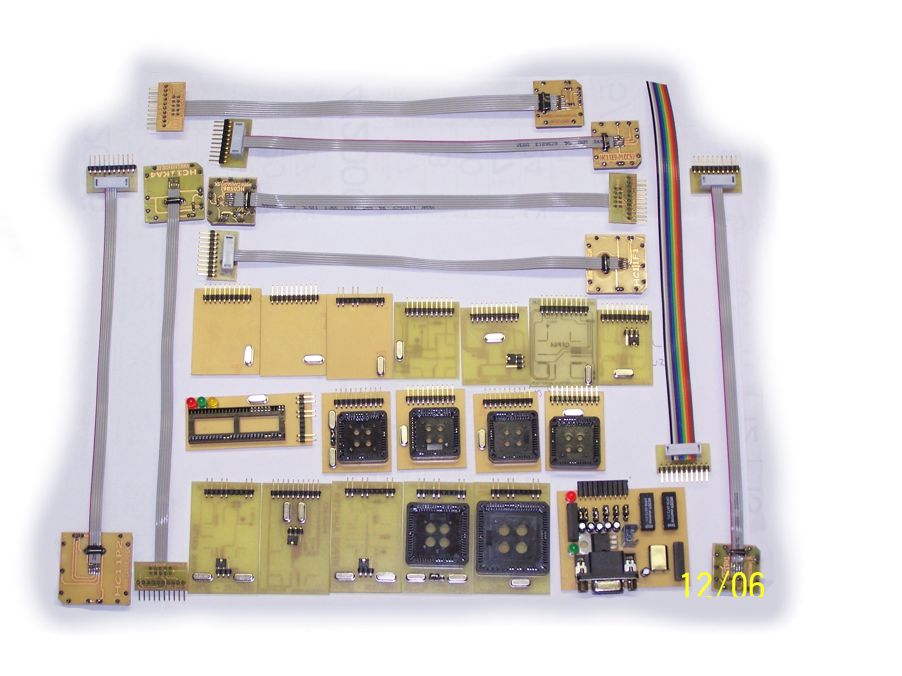 Please contact me if this is interesting for you .
Copyright © 2004-2015
All rights reserved.